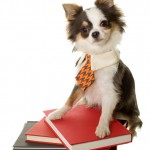 Training Tracks' nationally recognized experts teach fast, fun, effective practical solutions to your real life pet problems.
There are no regulations or licensing requirement for dog trainers. Anyone can offer training services, but there are a variety of ways to evaluate a trainer's education, professionalism, and ability to meet your needs. At Training Tracks' we pride ourselves on:
Experience:
Our owners each have over 20 years of experience working in all aspects of dog training and behavior. We've seen – and solved – it all.
Industry Leadership:
The owners of Training Tracks are leaders in a national dog training community working to set educational and professional standards for our industry. We publish articles, teach continuing education courses, and have held leadership positions in international professional associations.
Veterinary Recommendations:
If you're visiting our website, the odds are that your veterinarian sent you here. We built our business on partnerships with vets, for whom we provide staff training and other services. We also lecture on dog behavior to local veterinary professional associations.
Family-Centered Training:
Everything Training Tracks does revolves around training great family pets. We understand families' real life problems and have practical solutions for all of them, from house-training a puppy to addressing serious aggression.