Remote Training is Convenient, Effective, and Fun!
Are you looking for private coaching lessons to help you train your dog but find that most trainers are booking many weeks, if not months, out for lessons? Do you need to get help for your dog training challenges right away?
Training Tracks is proud to offer remote learning programs that can help you address a variety of training challenges
including:
puppy nipping and chewing
potty training
conflict between dogs in the home
resource guarding
separation anxiety
crate training
counter surfing
focus and attention
jumping and other unwanted greeting behaviors
door dashing
and more!
We offer convenient and flexible scheduling options and can get most clients started in a customized learning program right away.
How does it work?
First, we get to know you and your dog. We want to know about your family and your goals for your dog. Then, we create a customized training program based on your goals! Next, we set up weekly Zoom meetings to check in on your progress and set new goals each week, assigning practice exercises. We encourage clients to check in between sessions, reviewing videos of your session together, giving feedback to keep you on track.
A happy success story
Our friends and clients Gayle and Bob, recently completed an online learning program. Here's what Gayle had to say about their experience!
"My partner and I took on two mini-Aussie puppies in the midst of the pandemic. We had reached a point of frustration that had us on the brink of returning one of them to the breeders. Fortunately we were able to begin a series of remote sessions with Casey. Soon we were sending her videos of the two dogs' negative interactions, zoom walk-throughs of our yard and crate arrangements, etc. She in turn was giving us demonstrations of the correct way to train and intervene,sometimes even using her own dogs to demonstrate. She sent us custom-chosen links to youtube trainers demonstrating exactly what we needed to learn, gave us play-by-play suggestions when house guests were about to arrive, sent recipes for homemade dog treats, encouraged us when we got discouraged. Thanks to Casey and the miracle of technology I'm happy to report that we are now a happy, stable family of four!"
We are super proud of the amazing progress this family made during our
work with them and are thankful that Bob, Gayle, Chewbacca, and Ruthie chose our training family to help theirs!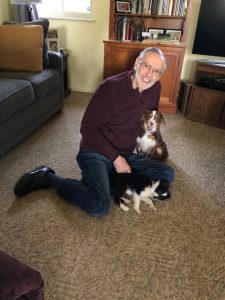 If you'd like us to help you train your dog to reach his or her ultimate "best friend" potential, please contact us at
info@trainingtracks.com
today to schedule your appointment!