Dog Daycare with a Difference In West Chester and Oxford, OH
We're still doing educational dog daycare with no-contact pick-up and drop-off during the COVID-19 pandemic. Click here to learn more about our response.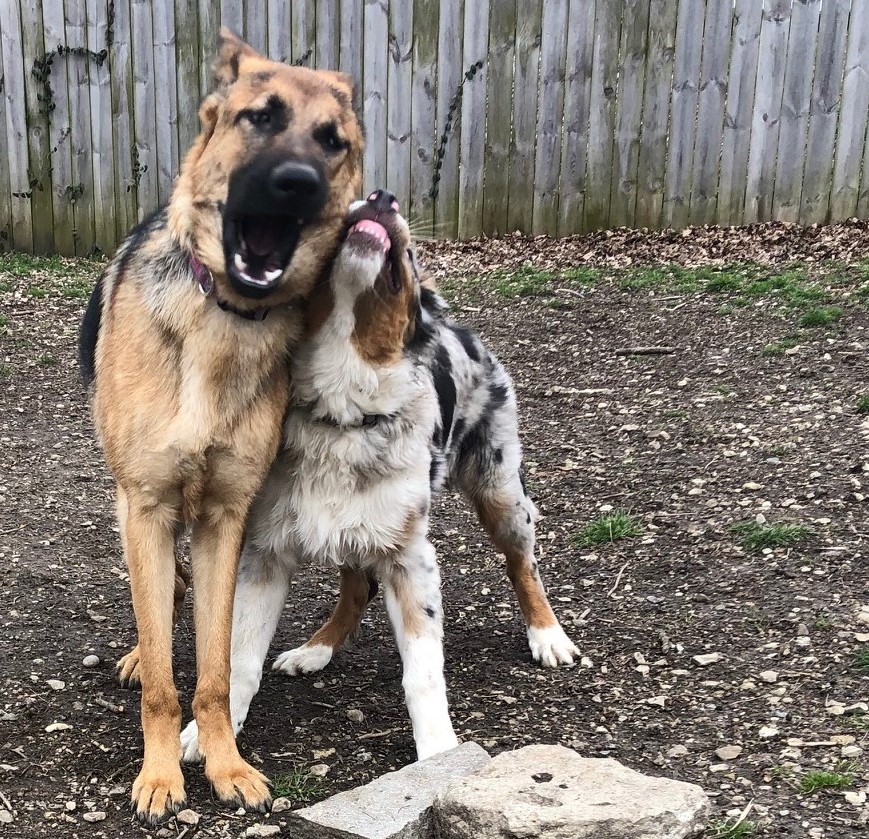 Educational dog daycare exercises your dog's mind as well as their body.
Maintains obedience and manners
Small playgroups.
Close supervision by professional trainers.
Focus on safety.
Your dog won't just come home tired; he'll come home better behaved.
Stay'n'Play dog daycare is a perfect way to maintain your dog's obedience and manners while giving them regular exercise and mental stimulation. We'll keep your dogs skills sharp even if you don't have time to practice as often as you would like.
Stay'n'Play is great for any dog, including many who aren't a good fit for traditional daycare. Our close supervision and strict screening make it especially ideal for puppies, seniors, shy dogs, or any dog who might find traditional daycare a bit overwhelming but could still use some care, companionship, and/or exercise during the work day.
At Training Tracks, we want to be your dog's home away from home. We have one staff member for every 6-8 dogs. That means that we really get to know your dogs and their needs. We assign them to small play groups based on their age, size, and personality to everyone safe and happy. Dogs get plenty of structured well-mannered play with their friends, but they also get time and space to rest. They can board with us too, so that they'll be with their friends and trainers whenever you travel.
Our trainers practice commands throughout the day, so that daycare actually maintains your dog's training. We insist on politely greeting humans without jumping or play biting. We also offer individual training sessions during the day if your dog's training needs a more in depth tune up.
How Do We Get Started?
Unless you have boarded with us in the last six months, we'll start by scheduling a two hour evaluation. Your dog will be assigned a trainer who will introduce him to other dogs and start showing him the ropes. If your dog passes the evaluation, you can sign up right away. Some dogs who don't pass the evaluation can easily get there with the help of one of our Day School training programs. Dogs who have boarded with us in the last six months can usually just start without an evaluation.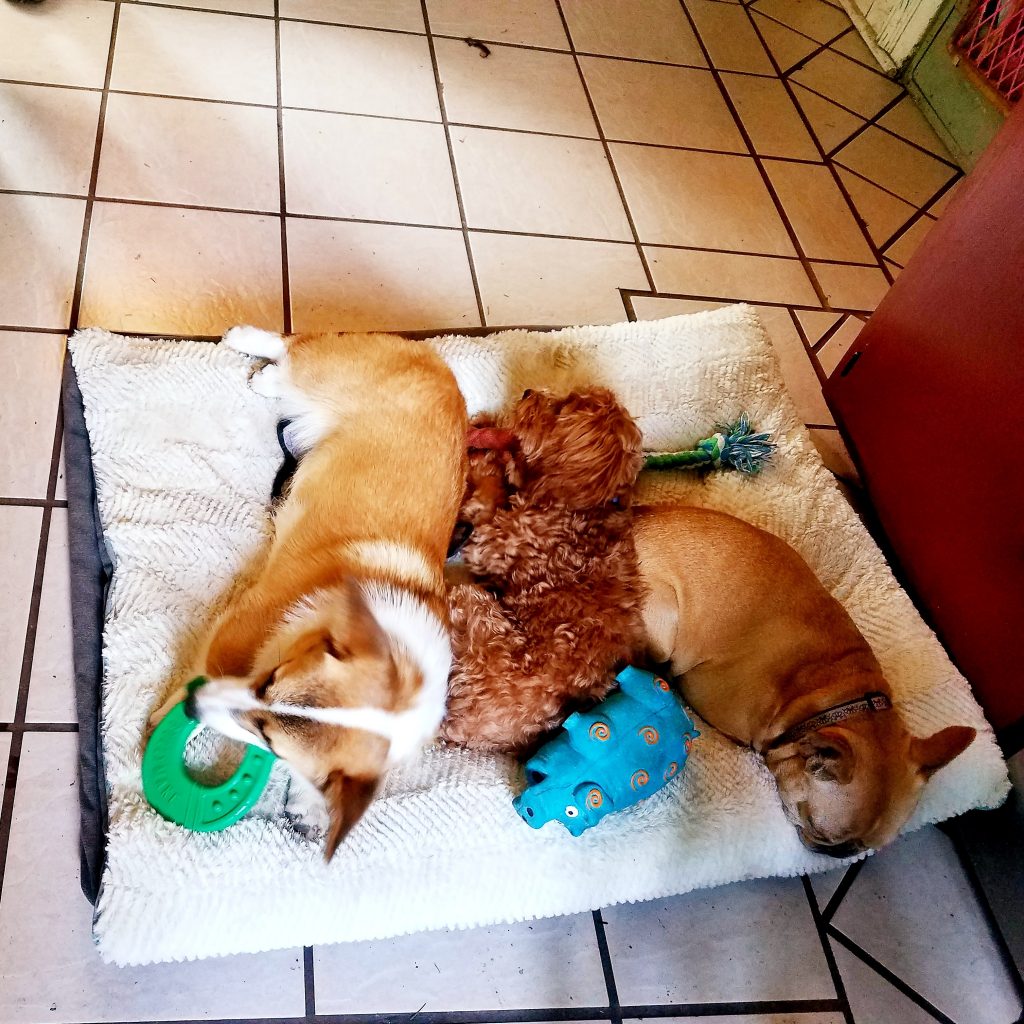 Who is Eligible?
Dogs must either be at least 5 months old or be Training Tracks puppy training clients. Our Puppy Day School Academy is perfect for puppies who need daycare.
Medical Requirements
Be up to date on DHPP, rabies, and Bordetella vaccines
Have a clean fecal float within 2 weeks of start date
Have a negative giardia test within 2 weeks of starting
Be up to date on heartworm and flea control
Be healthy enough for play with other dogs (we have special programs for seniors who don't play)
Behavioral Requirements
Friendly with dogs and humans (if your dog has struggled in settings like a traditional dog daycare or dog park, get in touch with us. We may be able to offer Day School training to make him eligible for Stay'n'Play).
Mostly House Trained (if you have a puppy, our Puppy Great Start Academy can do that for you)
Goes easily into a crate and can be calm and quiet for 30-60 minute naps during the day
No excessive barking
We offer focused training that can your help your dog overcome any of these problems except significant aggression
Training Requirements
All dogs should have some familiarity with the following commands and behaviors. They don't have to be perfect, but they need to be good enough that our dog trainers can improve their performance during group sessions. If your dog is lacking in these skills, we can do some dedicated training sessions to get him up to speed.
Coming when called
Sit
Leave-it
Greeting people without excessive jumping and play biting
How Does It Work?
We encourage Stay'n'Play dogs to attend at least once and ideally twice a week for maximum behavioral benefits, but we'll accept less frequent visits on a case-by-case basis.
We offer half-day and full-day visits.
Morning drop-offs are between 10 and 11 am. Afternoon pick up and drop off is between 1 and 3 pm. Evening pickup is between 5 and 6pm (exceptions can be made on a case-by-case basis). We offer in-home pickup in Oxford and College Corner.
We assign each dog to a group of 6-8 dogs based on their age, size, and play style. They alternate between closely-refereed group play, classroom training and play, and naps as needed to keep them from becoming overstimulated.
What Does It Cost?
All fees listed except for the single visit fees are for monthly memberships. We recommend that your dog attend at least once a week for sustainable training and behavior benefits.
| | | | | | |
| --- | --- | --- | --- | --- | --- |
|   | Single Visit | 1 X/Week | 2 X/Week | 3X/Week | Unlimited |
| Half Days | 32 | 130 | 225 | 295 | 435 |
| Full Days | 55 | 230 | 395 | 525 | 865 |
We also offer more focused one-on-one training sessions to teach new behaviors or troubleshoot problems for $40 for a half hour or $75 for an hour.