Start your puppy off right at the Great Start Puppy Training Academy in West Chester or Oxford, Ohio.

Would you love to have your puppy professionally trained, but can't bear the thought of sending him away for school?
Are you wondering what to do with your puppy while you work all day?
Our Great Start Academy offers the perfect combination of specialized puppy daycare and age-appropriate intensive puppy training.
Enjoy peace of mind knowing that skilled professionals are caring for your puppy in a safe loving environment while you work.
Care Comes First:
Focus on safety
Small trainer-supervised play groups chosen by age, size, and play style
Constant supervision
Great staff:dog ration
We'll Train Your Puppy Much More Quickly Than You Can Yourself:
In 4 weeks our pro trainers can teach your pup what we cover in 4 months of group classes
House Training: We'll teach your puppy to prefer going to the bathroom outside and to ring a bell to tell you when they need to go out.
Crate Training: Crating puppies for long work days before they're read can create anxiety and distress. We'll teach your puppy to love going to their crate on command and to happily settle down for naps at age-appropriate intervals during the day.
Polite Greetings: We'll teach them to greet people without jumping and nipping.
Leave-it: We'll teach them to leave your things alone and the prefer chewing their own toys
Drop: If they do get something they shouldn't, we'll teach them to drop it on command instead of you chasing them around
Coming When Called
Leash manners
Stay and Place: We'll teach your pup to stay on a mat when you're eating dinner, greeting visitors, or taking them to a cafe or kids' sporting events.
Basic Commands: sit, down, stay, and maybe a trick or 2.
Puppy Socialization
We'll make the most of your puppy's critical socialization window to help him become a happy, confident, well adjusted pet.
Puppy play refereed by our professional trainers teaches manners and confidence
We'll teach your puppy to love the vet, grooming, and new things that commonly frighten under-socialized dogs.
We'll screen for early signs of aggression or anxiety and do preventative exercises to nip any problems in the bud.
We'll Train Your Family
You and your family need to be trained to maintain your puppy's good behavior
At the end of each week, we'll send you instructional videos of your puppy's training exercises.
We'll do a lesson for you and your family at the end of each week
Remote support: We'll be available to support you by phone, text, email, or video conference for any problems your run into during or after day school
The Training Tracks Difference: Family-Centered Training
We don't expect you to train like a pro or spend hours and hours practicing with your dog. Our training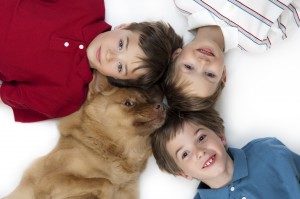 programs are built from the ground up to meet busy families' practical real-world needs:
Custom Programs: We'll get to know you and design a program that meets your family's specific needs. 
Beyond obedience commands: Trainers love precise obedience, but families need default manners and behaviors so that your dog doesn't get in trouble in the first place
Realistic environments: We have kitchens and living room areas set up in our training centers to practice the skills your dog needs like staying off counters and tables, not begging at the table, politely greeting visitors at the door, and not harassing you when you watch TV.
Intensive Lifetime Support:  We'll train your whole family in maintaining your dog's behavior. We'll give you in person lessons, but we're also available by phone, text, and even video conference to make sure you get the most out of your training. We'll even keep your dog's training sharp if you board with us or use our one-of-a-kind educational dog daycare.
Kid Friendly: Kids as young as 7 or 8 can master our practical gentle training techniques, and we can teach you to make sure that your dog doesn't overwhelm younger children.
Your Puppy's Home-Away-From-Home
Training Tracks provides a home-away-from home for our clients' pets with programs designed by animal behavior experts to meet dogs' physical, emotional, and behavioral needs in a safe, loving, home-like environment through every stage of life. When your puppy finishes training, they can roll right into our unique Stay'n"Play educational dog daycare and even board with us in a home-like environment when you travel.
We treat our clients, their dogs, and our staff like family. That means that we have very low turnover both of staff and clients, so your dog can count on seeing old human and canine friends every time he visits.
Great Staff to Dog Ratio: We have a maximum of 5 puppies per professional trainer. We also have care staff who care for and exercises the dogs in small groups when they're not training.