Cincinnati's Full Service Dog Trainers:
Board and Train, In-home, and Obedience Classes

Struggling with an Out of Control Dog?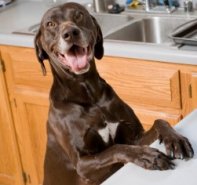 Does Your Dog…
Embarrass you by jumping on guests?
Drag you down the street on leash?
Chew up your stuff?
Play too rough with your kids?
Go go the bathroom in the house?
Beg at the table or steal food?
Growl, lunge and bark at strangers or other dogs?
We can help!  Real world solutions that work for families' real lives.
We'll train your dog with you or for you; at our facility or in your home on your schedule.
Contact Us today and let Cincinnati and Oxford's premier dog training and dog behavior experts design a fast, fun, effective training program for your dog!
Trust the Behavior Professionals Recommended by Veterinarians & Other Experts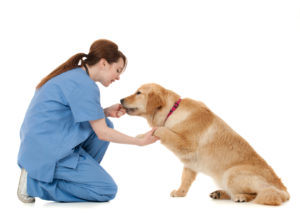 Cincinnati's largest and most experienced training team: Our owners each have over 20 years of experience, and oversee a team of 5 expert trainers dedicated to helping you love living with your dog.
A Reputation You Can Trust: Over 20 years of relying on referrals from veterinarians and previous clients. Ask your vet about us.
We Can Train Your Dog For You…
In our most popular programs, we train your dog and then train you to maintain his new behaviors. It's much faster and easier than doing it yourself, because both you and your dog get the ideal learning experience. Your dog learns straight from the experts, and you get to learn with a dog who is already really well-trained.
Faster Results: We can do in 3-5 weeks what would take you 3-4 months.
Less Work: Training a dog requires daily practice and repetition. Let us do it for you.
Two Options: Your dog can come live with our owners to learn to behave like a trainer's dog, or our trainers can come to your home several times a week to do the training.
Best For: Families with young kids, first-time dog owners, busy professionals, difficult dogs, or anyone who wants quick results
or We Can Teach You to Train Your Dog
Our group classes and in-home coaching programs give do-it-yourself dog owners all the skills, guidance, and support you need to train a wonderfully behaved dog.
Group Classes: We teach a variety of classes at our training centers in West Chester and Oxford. Our curriculum covers practical manners and training strategies that work.
Private In-Home Training: If you want personalized attention or your schedule's too hectic to commit to a weekly class, our trainers will come to you. We'll design a custom training plan, do appointments wherever and whenever you need us, and provide intensive support between lessons.
Best For: People who want to learn about dog training, people who have trained a dog before and need a refresher, people with time to devote to daily training sessions
Find the right program for you and your dog
Family-Centered-Training
Our training sticks because we customize every program and focus as much on training people as on training dogs.
Custom Plans: Whether you're a single professional or a large busy family, we'll get to know you and train to meet your unique needs.
Kid Friendly: Even young kids get results with our fast, fun, effective techniques
Mel Featured on "America's Dog Trainer"