Cincinnati's Full Service Dog Trainers:
Board and Train, Day School, Classes, and Virtual Online Training

Struggling with an Out of Control Dog?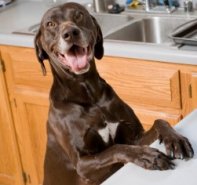 Does Your Dog…
Embarrass you by jumping on guests?
Drag you down the street on leash?
Chew up your stuff?
Play too rough with your kids?
Go go the bathroom in the house?
Beg at the table or steal food?
Growl, lunge and bark at strangers or other dogs?
We Provide Custom Solutions
Call today to schedule a free phone or virtual online consultation, and let us design a custom training program that's as unique as your dog and your family.
With the largest and most experienced dog training team in the area, Training Tracks provides a mix of services to meet any goals and any schedule.
We Treat Dogs Like Family – Because They Are!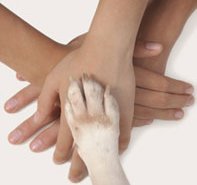 Family-Centered Dog Training: We designed our training techniques from the ground up to meet the practical needs of busy families. We'll train your dog and your family in our gentle, kid-friendly exercises that easily fit into your daily routine.
Real World Environments: We go beyond formal obedience commands to teach the real world off-leash skills that family pets need at home. Our training centers simulate home environments and our board and train dogs actually live 24/7 in our owners' home.
Lifetime Support: We've been standing behind our work and supporting our clients for life since 1998.
Your Dog's Home Away From Home: Our unique boarding and daycare services help reinforce training for life. Our drop off programs have the best staff:dog ratio anywhere and our team has been together for years. Every time that your dog visits, he'll be in the care of dedicated professionals who know him well and can help keep his behavior sharp for life.
We Can Train Your Dog For You…
In our most popular programs, we train your dog and then train you to maintain his new behaviors. It's much faster and easier than doing it yourself, because both you and your dog get the ideal learning experience. Your dog learns straight from the experts, and you get to learn with a dog who is already really well-trained.
Faster Results: We can do in 3-5 weeks what would take you 3-4 months.
Less Work: Training a dog requires daily practice and repetition. Let us do it for you.
Three Options: Your dog can come live with our owners to learn to behave like a trainer's dog, come to one of our training centers for the perfect combination of daycare and training, or our trainers can come to your home.
Best For: Families with young kids, first-time dog owners, busy professionals, difficult dogs, or anyone who wants quick results
or We Can Teach You to Train Your Dog
Our group classes and in-home coaching programs give do-it-yourself dog owners all the skills, guidance, and support you need to train a wonderfully behaved dog.
Group Classes: We teach a variety of classes at our training centers in West Chester and Oxford. Our curriculum covers practical manners and training strategies that work.
Private In-Home Training: If you want personalized attention or your schedule's too hectic to commit to a weekly class, our trainers will come to you. We'll design a custom training plan, do appointments wherever and whenever you need us, and provide intensive support between lessons.
Best For: People who want to learn about dog training, people who have trained a dog before and need a refresher, people with time to devote to daily training sessions
Find the right program for you and your dog
Experience You Can Trust
Top Trainers: Our owners are nationally recognized leaders in the field supervising a team of 6 expert trainers who can meet any training goals
Veterinary Partnerships: We work with 21 clinics in greater Cincinnati to help dogs with even the most serious behavior problems.
Here to Stay: We've been in business since 1998 relying on referrals from happy clients and veterinary partners. We'll be here to support you when you need us.
.
Mel Featured on "America's Dog Trainer"