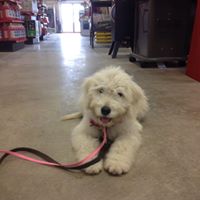 Whatever your training goals for your puppy, we have a day training program to meet them.  We'll work wherever you need your dog to behave, whether that's your home, your office, or anywhere else.
We have programs that include field trips to socialize your puppy as well as programs to help your older dogs brush up on their behavior.
Each week of training includes a lesson at the end of the week for us to train you and your family to maintain and build upon what we taught your dog that week.
3-Week Puppy Foundations Program
We'll get you off to a great start with basic manners and obedience.
We Teach Your Puppy
House Training: We'll give you a house training schedule and train your puppy to ring a bell on command so that he can tell you when he needs to go out.
Polite Greetings with no jumping on people or play biting
To chew only his own toys; not your shoes, remote controls, kids' toys, etc.
Crate Training: We'll teach your pup to go into his crate on command and be calm and quiet
Basic Commands like sit, down, come, and drop it.
Socialization:  We'll give you a socialization plan and check-list to follow with your puppy
Counter surfing prevention and the leave-it command
Program Includes:
3-weeks of day training in your home.
3 60-minute working sessions each week where we train your puppy.
1 60-minute private in-home transfer lesson each week to teach you to maintain the training
Best Suited For:
People who have trained a puppy or want to learn, but just need a jump start on the basics.
Fee: $1275
4-Week Puppy Obedience and Manners
We'll teach your puppy intermediate level manners and obedience.
We Teach Your Puppy
House Training: We'll give you a house training schedule and train your puppy to ring a bell on command so that he can tell you when he needs to go out.
Polite Greetings with no play biting or jumping on people
To chew only his own toys; not your shoes, remote controls, kids' toys, etc.
Crate Training: We'll teach your pup to go into his crate on command and be calm and quiet
Basic Commands like sit, down, come, and drop it.
Socialization:  We'll give you a socialization plan and check-list to follow with your puppy
Stay and Place: Your puppy will learn to go to a mat and stay until released so that you can control him while you cook, eat, bring guests into the house, pay for a pizza or whatever.
Leash Skills: Your dog will learn to walk calmly with you without pulling.
Counter surfing prevention and the leave-it command
Program Includes:
4-weeks of day training in your home.
3 60-minute working sessions each week where we train your puppy.
1 60-minute private in-home transfer lesson each week to teach you to maintain the training
Best Suited For:
Puppies 12 weeks and older.
Busy families or professionals.
Anyone who wants a wonderfully-behaved puppy
Fee: $1675
4-Week Wonder Puppy Training and Socialization Program
In our most popular puppy day training program, we do 90- minute training sessions so that we can do field trips to properly socialize your puppy in addition to teaching all of the same skills as our Obedience and Manners program
We Teach Your Puppy
Socialization:  We'll take your puppy on field trips to make the most out of their critical socialization period by acclimating them to a variety of people, sights, and sounds so that he develops into a stable well-balanced dog.
Problem prevention:  We'll do preventative exercises to make sure that your puppy doesn't develop problems with food guarding, resisting vet care and grooming, becoming fearful, or becoming aggressive.
House Training: We'll give you a house training schedule and train your puppy to ring a bell on command so that he can tell you when he needs to go out.
Polite Greetings:  We'll teach you how to handle play biting and jumping on people
To chew only his own toys; not your shoes, remote controls, kids' toys, etc.
Crate Training: We'll teach your pup to go into his crate on command and be calm and quiet
Basic Commands like sit, down, come, and drop it.
Stay and Place: Your puppy will learn to go to a mat and stay until released so that you can control him while you cook, eat, bring guests into the house, pay for a pizza or whatever.
Leash Skills: Your dog will learn to walk calmly with you without pulling.
Counter surfing prevention and the leave-it command
Program Includes:
4 weeks of day training in your home.
3 90-minute working sessions each week where we train your puppy.
Field trips to socialize your puppy
1 90-minute private in-home transfer lesson each week to teach you to maintain the training
Best Suited For:
Puppies 12 weeks and older.
Busy families or professionals.
Anyone who wants a wonderfully-behaved puppy
Fee: $2225