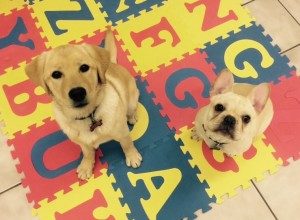 At Training Tracks, the only thing that we value as much as your family's relationship with your dog and satisfaction with his training is safety, for your family and our family of trainers and care technicians.
With that understanding, we have made the difficult decision to temporarily suspend group classes. We are hoping to resume offering group instruction as soon as we can do so safely. Our team is eagerly awaiting the return of warmer weather and our chance at getting vaccinated so we can resume offering group classes as quickly and safely as possible.
We will be updating the website as soon as classes are open for enrollment again. In the meantime, we are maintaining a waiting list so we can notify students when these learning opportunities are available again; if you would like to be added, please use the contact form below or email info@trainingtracks.com.
Looking for COVID-safe group learning and socialization opportunities for your dog? Check out our Puppy Training Day School if your puppy is under the age of five months or our Dog Training Day School for dogs over five months of age. We offer safe and convenient pick up and drop offs at both our Oxford and West Chester locations, enroll your dog today!