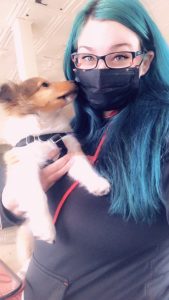 We're open for most services and we're taking every precaution to protect our community and our staff during the COVID-19 pandemic. Fortunately, there are still plenty of ways in which we can safely help meet your needs for dog training, expert behavior consulting, puppy socialization, and boarding.
We're doing social distancing for our drop off services and using veterinary grade sanitizers that keep everything clean.
We'll be reviewing and updating our practices as scientific data and expert recommendations evolve. Our current precautions include:
Drop-Off Services: We continue to offer all of our great drop off services with added safety precautions including no contact drop offs, strict social distancing in our facilities, and hospital grade sanitation in our facilities and of all leashes, collars, harnesses, etc.
Board and Train: We're still operating the area's only positive reinforcement board and train where dogs live in our owners' home for a 24/7 immersive training experience. Learn more…
Day School: Drop you dog off for training while you're at work for the ultimate combination of training, socialization, and daycare. Learn more...
Boarding: We're still taking clients' dogs for boarding in our safe loving home environment.
Stay'n'Play Educational Dog Daycare (Oxford Only): Drop your dog off for a full of half day of exercise, socialization, and training maintenance. Learn more…
Group Classes: Group classes are temporarily suspended at this time until we can resume offering them safely. We're just waiting for our vaccines and for the weather to break so we can resume teaching group classes. We'll be updating the website as soon as enrollment opens for new group learning opportunities!
Private Training: We're currently doing all of our private lessons through a combination of outdoor sessions at your home and/or online virtual training. We hope to resume in-home training as soon as it is safe to do so and our staff has received the vaccinations they need to do their jobs safely. Learn more.
Expanded Online Virtual Dog Training: We're already doing online private training, and we're loving it! The tools that we're using make it better than we ever hoped. We'll give you real-time, online, one-on-one coaching that's almost as good as us being there.
High quality structured individual online lessons with lots of support between sessions.
More frequent more flexible sessions: With virtual dog training, we can meet whenever you need help or feel ready to move to a new level. Instead of scheduling weekly hour-long lessons, we might meet 2 or 3 times a week for 20 minutes. We charge for the time, so those 3 lessons cost the same as an hour-long lesson.
Real-time video coaching
Full video recordings of your sessions along with training videos, handouts, and other supportive materials
Training that includes the whole family, in the comfort of your own home
Great tech support.
Online Behavior Consults: Our aggression and anxiety expert, Jeff Silverman, has expanded online consults to all clients for aggression and anxiety. He's been doing this for clients in remote areas for years. Now he's offering it to our Southwest Ohio clients too. Learn more.