Three Things You Must Understand to Get Your Dog to Listen to You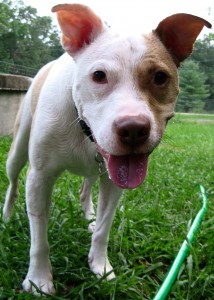 Why does my dog ignore me?Does your dog ignore you when you call him to come or give him a command? "Why does my dog ignore me?" is one of the most common questions I hear from week 1 students in my dog obedience training classes. Some of them take being ignored as a challenge to their authority. Others get their feelings hurt and worry that their dog doesn't love them. In reality, most people whose dogs ignore them have unwittingly trained them to do so.
Dog training comes down to one simple principle: The behavior that is rewarded gets repeated. Set your dog's life up so that behavior you want leads to Good Things for Dogs and behavior you don't want doesn't, and you will have a well-behaved dog. Simple, right? It can be, but first you have to understand how to make your dog connect rewards with the right behavior. To do that, you must understand 3 key differences between our brains and dogs' brains.
Silence is golden
Your dog thinks you talk too much. Trust me. He does. Friends and family may hang on your every word, but not your dog. Dogs have their own natural "language,", but it doesn't have words. Dog language is visual. They communicate volumes with their posture, their tails, their eyes, and their ears. For this reason, their first instinct when trying to figure out what we want is to watch us; not to listen to us. Our constant talking is just noise to them.
Try following this simple rule. If you tell your dog to do something 5 times and he doesn't do it 4 of those times, stop telling him to do it. Training happens every time we interact with our dogs, whether we notice it or not. If you keep calling your dog or telling him to get off the counter and he doesn't listen, then you are actively training him to ignore you. We need to make our words count in dog training. So what do you do if you can't repeat a command to a dog who is ignoring you? You change your focus, which leads to our second big difference between how dogs and humans experience the world. Learn more.
Timing is everything
When we get hung up on what we can do or say to prompt our dogs to behave, we have it backwards. Remember the first principle of dog training? The behavior that is rewarded gets repeated. The consequences of a dog's behavior determine how much of that behavior we'll see in the future. If good things tend to follow a behavior, a dog will do more of it. If they don't, he'll do less of it. We create motivation by controlling what follows behavior. Once we motivate a dog to do something, putting it on cue is the easy part.
Proximity in time matters almost as much as order. Dogs are truly creatures of the moment. Our own brains stay busy analyzing past events and contemplating the future. Not our dogs. They live completely in the now. To communicate effectively with them, we must learn to do the same. Our feedback on their behavior must always be about what they are doing RIGHT NOW. When your dog does something, you have about 2 seconds to weigh in on it, and that's if you're lucky. If, for example, your dog sits when you ask him to, but then jumps up on you before you've had a chance to deliver a reward, you've lost your chance.
The hardest time to follow the rule that our feedback must always be about the dog is doing right now is when our dogs make us angry. When you displease us, we humans want to tell you about it … and tell you about it … and then make sure you really understand. A dog's reprimands, on the other hand, stop when the offending behavior stops. If you want to make sense to your dog, you must learn to change direction on a dime. If your dog strands you at the dog park for an extra hour by refusing to come when called, for example, you're going to be really frustrated. No matter how angry you are, you must praise and reward that dog when he finally comes. Because he associates your behavior with what he is doing right now, scolding will only make him less likely to come next time.
It all depends
I only ban one phrase in my dog training classes, "He knows this. He does it at home." People are almost always wrong when they say this. It's a natural thing to assume. If my dog lies down whenever I ask him to at home, but won't do it in class, then he must be ignoring me or challenging my authority, right? Wrong.
Humans excel at abstraction and generalization. The gift of language allows us to effortlessly understand that the word "sit" applies to planting our rear ends on the ground, on the couch, on a bar stool, etc. Dogs don't think that way. For them, everything is context specific. Just because that funny "sit" sound that you make predicts Good Things for Dogs who plant their butts at home doesn't mean that it applies in other venues. When our dogs fail to comply with commands in new situations, it's not defiance. They honestly don't get it. I prefer to think of mistakes as questions. Do I have to sit when you make that noise in class? What about when the doorbell rings? What about when…Squirrel!!!
For this reason, I also like to think of training as more like exercise than like teaching commands. In weight lifting, you start with a weight that's a bit of a struggle and lift it repeatedly until it's easy. Then you add more weight. In dog training, we break our ultimate goal down into little pieces, start with something slightly challenging, and do repetitions until it's easy. Then we make it a little harder. Asking my dog to sit when we're alone in the kitchen is like asking him to lift 5 pounds. Asking him to sit when the pizza delivery guy rings the doorbell, gets everyone barking, and stands outside smelling amazing is like asking him to lift 500 pounds. You don't get from 5 pounds to 500 pounds overnight. You have to do lots of repetitions at ever-increasing levels of difficulty to get there.
You'll learn numerous training techniques in obedience class, but you will apply them more effectively if you remember 3 things: every word counts, timing is everything, and it all depends (on the context). Happy training!