Your life is busy. Our life is dogs.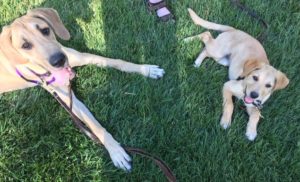 Our one-of-a-kind Puppy Camps provide a safe and loving home environment where your puppy lives full-time with professional trainers.
We'll house train them, teach manners and obedience,  and give them plenty of attention.
Why Choose Total Immersion Puppy Camps?
New puppies may be incredibly adorable, but that first month of house training and socialization can be stressful and frustrating, especially for first-time puppy owners.
New puppies cry in the crate, have potty accidents, and tear things up unless you supervise them 24/7. It's like having a toddler who can run really fast, likes to eat your stuff, and has to get up in the middle of the night to go to the bathroom.
Let us handle all of that for you. In a few weeks, we can train your puppy in commands, manners, and socialization that would take you months to do yourself so that you can really enjoy his puppyhood.
The Training Tracks Difference
 No other program prepares your puppy for life in a busy home like ours.
Training That Works in the Real World:  Traditional board and train "boot camps" teach commands for an hour or two each day, and dogs then go back to a kennel or daycare setting.  We go way beyond obedience commands to teach puppies reliable manners that last in a realistic home environment. When other programs stop training, we're just getting started. We train while we cook, eat, watch TV, and have company, so that your pup learns how to behave in an actual home environment.
Intensive Socialization: Staying in a home for training is particularly important for puppies during their critical socialization period. Living with your puppy 24/7 allows us to really know your puppy and tailor his socialization to his personality and needs.
Custom Programs: We'll get to know you and create a training plan that meets your individual needs.
Family-Centered Training: We involve the whole family in maintaining your puppy's behavior. Kids as young as 7 can make excellent dog trainers, and we love teaching them.
Intensive Support: We take as much pride in training our human clients as we take in training dogs. We'll do several follow-up lessons in your home to train your entire family to maintain your puppy's behavior . We're also available by phone, email, or video chat for any support that you need as your puppy transitions back into your home.
High Level of Care:  We only take 5-6 dogs at a time and offer 24/7 care.   We have 2 trainers and at least one support staff member here all day every day.  This allows us to ensure that puppies get plenty of socialization, attention, and practice behaving in realistic situations.
Your puppy will come home knowing how to:
Ring a bell to tell you when he needs to go out
Settle quietly in a crate
Greet people politely without jumping, play biting, or other pushy behavior(s)
Chew his own toys instead of your stuff
Sit and stay politely at the door until released whether you're coming home from work, paying for pizza delivery, or bringing in groceries
Walk politely by your side on leash without pulling
Lay on his mat or dog bed while you eat dinner or have guests who don't enjoy dogs
Play politely with other dogs
Happily sit still for grooming and vet care
Reliably respond to commands like sit, down, stay, come, and leave-it
How does it work?
We Get to Know You:  We'll come to your meet your family, evaluate your puppy, and learn how you want him to fit into your lifestyle so that we can train to your specific needs.
We Commit to Meet Your Goals:  We write up a detailed custom training agreement that spells out exactly what to expect of the process and what your dog will learn.
We Train Your Dog:  Your dog comes to stay with us for the allotted time.  We keep you updated on our progress with photos, videos, and training reports.
We Train You:  We'll bring your dog home and train your family on how to maintain your dog's wonderful new behaviors. All of our packages include multiple in-home lessons for your family.  They also include phone and email support as well as access to group refresher courses should you need them.
Why is it so fast?
Board and Train works so quickly because both you and your dog get to learn with a partner who knows what she's doing. Our owners, Mel and Jeff, decided to start offering board and train after – of all things – taking a dance class. We found that when we tried to learn new steps, we often tripped over each other and could seldom figure out what went wrong. The instructors, however, could take either one of us and teach us to do the step perfectly in just a few seconds. Because the steps were second nature to the instructors and because they had taught hundreds of people to dance, they could stop our mistakes before we made them and make it all seem easy.
 Dog training, like dancing, is a mechanical skill. When a novice owner and an untrained dog work together, they tend to confuse each other. That slows things down. At Puppy Camp, your dog gets to learn from an expert trainer, who – like our dance instructors – can guide him past any mistake so that he learns very quickly. When it's your turn to learn the exercises, you get the benefit of working with a dog who already knows what to do. It makes learning faster, easier, and more fun for both of you.
Fill out the form below and one of our owners will call you to hear about your puppy's needs and discuss the best program for you.